Michèle Forbes
Article: Word For Word "How small turned out to be beautiful"
Posted: February 09, 2013
First published in The Irish Times February 09, 2013
WORD FOR WORD:
In the late 1970s, my father wrote for The Two Ronnies, Dave Allen, Les Dawson and Roy Hudd, among others, in what now could be considered a golden age in television comedy. Before that, he had many rejections. Being the first home from school, I would find his returned TV and radio scripts nestled among the nuggets of coal in the shed where the postman always left them.
My father would mark these rejections with a shake of his head, then, a few days later, would stride lively to the post office with a fresh brown envelope in his hand to send his work off once again. My father displayed not tenacity (tenacity sounds too sure of itself) but a quiet determination to keep going, and in his negotiations with producers and editors over the years the one quality he valued most in himself and in them – call him old fashioned – was good manners.
It had never dawned on me to send my debut novel, Ghost Moth, to the US, but in 2011, as part of Dublin Writers' Festival, I attended a workshop with the American author Paul Harding. Harding is the author whose quiet, contemplative debut novel, Tinkers, nobody wanted.
He's also the author who went on to win, with that same quiet novel, the Pulitzer Prize for Fiction after it had been published by Bellevue Literary Press, in New York.
So, after 38 rejections from agents in the UK and Ireland, I metaphorically brushed the coal dust off my manuscript, popped it in a fresh brown envelope and set it sailing off across the Atlantic. A few weeks later Bellevue offered to publish it.
Bellevue was established in 2007 and is a project of New York University's school of medicine and Bellevue Hospital Center, the oldest public hospital in the US. (The hospital came to the attention of the world recently when, during Hurricane Sandy, medical staff had to carry intensive-care patients one by one down 17 flights of stairs while emergency crews pumped 10 million gallons of seawater out of its basement.)
At the time Tinkers was published, in 2009, there were only two people at Bellevue, the editorial director, Erika Goldman, and the associate editor, Leslie Hodgkins Being agentless – not that I'd planned it that way – meant that I had to navigate my own way through the publishing process, but being with a small and prestigious press you'll always get talking to the person you want to. It has also meant that I had creative input at every step, down to what cover would be used for the American edition.
Since the storm, Leslie Hodgkins rings me from his temporary office on East 12th Street. He is a man with an unadulterated passion for what he does. Throughout our dealings, he has been nothing but generous with his time, clear-sighted with his advice and the height of good manners.
Bellevue will publish Ghost Moth in the US in April. Later in the year, Penguin will bring out their edition in Canada and Weidenfeld Nicolson, an imprint of Orion, will publish the book in the UK and Ireland. I'm looking forward to the homecoming.
Thanks, Dad.
Review: The Lives of Things by José Saramago
Posted May 05, 2012
First published in The Irish Times May 05 2012
Published for the first time in English, this collection of stories by the late Portuguese Nobel laureate José Saramago (1922-2010) brings together his early experiments in the short-story form.
The Lives of Things, translated by Giovanni Pontiero, combines political allegory, fantasy and biting satire to explore the brutal repression of the Portuguese people under the Salazar regime and to highlight the horrors of institutionalised tyranny.
Many of the stories centre on the propulsion of paranoia and fear by using the nightmarish animation of everyday objects. In The Chair Saramago describes, with forensic exactitude, the chair that collapsed under Salazar, causing him to die from a brain haemorrhage and so precipitating the end of his regime. Embargo focuses on the profound consequences of the survival of the system at the expense of the individual, as a car takes over the life of its driver. In Things a terrified civil servant watches as his city disappears piece by piece: first the door of his apartment, then its walls and finally whole streets.
Other stories are less Kafkaesque, more mystical and lyrical. In The Centaur the rational and the instinctive worlds are woven together in one beautiful creature, the extinction of which is painfully mourned. Revenge illuminates the awakening of adolescent sexuality, at one and the same time tender and disquieting, and Reflux is a fantasy in symmetry, as a king meticulously plans how to cleanse his kingdom of death.
For the uninitiated – which I was – Saramago's stories are not, at first, a comfortable read. He offers language as a kind of architectural maze, expanding and reducing metaphors with a rigorous precision, tagging one tangent on after another and ultimately questioning the constructs of language. In his Nobel lecture he describes his writing process as "digging down, underneath, towards the roots". But it is this very digging – Saramago's insistent pursuit – that unearths in his narratives not only images of bitter-sweet beauty but also a wickedly mischievous sense of humour.
The stories in The Lives of Things are parables in human compassion and civic responsibility, celebrating the triumph of the human spirit. We are richer for them.
The Lives of Things by José Saramago is published by Verso £12.99.
Review: Some Sort of Beauty by Jamie O'Connell
Posted June 09, 2012
First published in The Irish Times June 09, 2012
The fictional style of this debut collection of short stories is unapologetically self-referential. In Without Art, Sebastian, a young gay writer, imagines an encounter with a former lover who will ask him what his collection of short stories is about. Sebastian muses; he will answer with a quote from Rainer Maria Rilke's Letters to a Young Poet (the quote also used at the beginning of the collection), explaining how writing has allowed him "to reach out to understand viewpoints different from my own". These viewpoints then form the backbone of most of the stories that follow.
In That Ample Past, a young writer worries that he will never be taken seriously in his work but ultimately finds redemption in the creative process.
In the title story, Evelyn's father, a Jehovah's Witness, discovers that he has been left the rights of his wayward daughter's book, entitled Some Sort of Beauty, after she has been killed by a drunk driver.
Other stories veer away from self-referencing but still fuse thematically. For example, the loss of a beloved grandfather in Without Art is echoed beautifully in The Believer, and the selfish artist Gearóid de Barra in Brush and Gut reappears to experience an unexpected epiphany in The Gift.
O'Connell writes with tenderness and attention, earnestly describing a world in which belief systems have crumbled, where families are in denial about what has destroyed them, where internet sex turns out to be just as vacuous as it sounds, and where commitment to love and friendship is often hazardous. But there is also a crippling resignation to O'Connell's characters, an overcontemplativeness, which weighs down the energy of these otherwise artful narratives. O'Connell's tendency is to explain a little too much; there were times I was hoping I could be left alone to read without the author's voice constantly whispering in my ear.
Some Sort of Beauty by Jamie O'Connell is published by Bradshaw Books, €12.99.
Review: Hope: A Tragedy by Shalom Auslander
Posted November 03, 2012
First published in The Irish Times November 03, 2012
Solomon Kugel, paranoid self-loather and relentless anthropomorphiser, flees the city with his wife, his beloved son and his wretched, ailing mother (who constantly talks of how she suffered in the Nazi concentration camps despite the fact that she was never in one). They decamp to a farmhouse in rural Stockton, New York, in an effort to escape history and begin life anew. But Kugel's troubles are only beginning. As he lies in bed one night he hears a tapping coming through the vents of his house.
Convinced it is some lunatic arsonist, he follows the noise to the attic, where he discovers a thought-to-be dead, well-loved historical figure hiding like some emaciated anchorite. For Kugel things swiftly go from bad to worse. Shalom Auslander is masterful in how he examines the legacy of the Holocaust and the meaning of historical consciousness through a biting gallows humour without undermining the novel's tender heart. This first novel is hilarious, irreverent and brilliant.
Hope: A Tragedy by Shalom Auslander is published by Picador £7.99.
Review: Lucky Break by Esther Freud
Posted April 14, 2012
First published in The Irish Times April 14, 2012
This novel moves effortlessly between the lives of four drama students in their pursuit of acting success. Nell, homely and self-deprecating, struggles to regain her confidence after being thrown out of drama school. Ambitious Dan wrestles to balance his career and family life with the rebellious and overlooked Jemma, and Charlie painfully discovers that her confidence and beauty aren't everything. Freud pitches her narrative with acuity and zing, following the characters through humiliating screen tests, lonely LA film sets and dismal regional tours. The self-obsessiveness could be irritating (without irony, Dan asks if it's possible "to be a great actor and still be loyal to your wife") but Freud undercuts the navel-gazing with real compassion and humour, and exposes the central conundrum: how can a business that purports to understand and illuminate the human condition so demoralise the very people who create it? "No thanks," Dan tells his agent when he is offered a theatre job, "I can't afford it."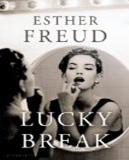 Lucky Break by Esther Freud is published by Bloomsbury, £7.99.
Review: Ten Stories About Smoking by Stuart Evers
Posted March 31, 2012
First published in The Irish Times March 31, 2012
These 10 remarkable tales by the British writer Stuart Evers read as an inventory of failed marriages, sexually disenfranchised relationships and missing people. The contemporary world he portrays is unsettling and always something to escape from. Although the characters are named they feel anonymous, dislocated in their attempts to come to grips with the crises they face; for the most part they are not middle-aged but soon-to-be. The cigarette is the baton passed from story to story, acting as killer and comforter, as confidante, as an instrument of torture and self-mutilation and as a nostalgic reminder of reckless youth. Interested in the bald mechanics of a story, Evers draws everything tight. His language is clean-cut and concise; his narrative shifts are sudden and shocking. Yet for all its astringency the collection offers us tenderness and humour: "She had cellulite on her thighs," Marty says, looking at the naked Angela in What's in Swindon. "It was sexy in a way that women just don't understand."
Ten Stories About Smoking by Stuart Evers is published by Picador, £7.99.