Michèle Forbes
Article: Word For Word "How small turned out to be beautiful"
Posted: February 09, 2013
First published in The Irish Times February 09, 2013
WORD FOR WORD:
In the late 1970s, my father wrote for The Two Ronnies, Dave Allen, Les Dawson and Roy Hudd, among others, in what now could be considered a golden age in television comedy. Before that, he had many rejections. Being the first home from school, I would find his returned TV and radio scripts nestled among the nuggets of coal in the shed where the postman always left them.
My father would mark these rejections with a shake of his head, then, a few days later, would stride lively to the post office with a fresh brown envelope in his hand to send his work off once again. My father displayed not tenacity (tenacity sounds too sure of itself) but a quiet determination to keep going, and in his negotiations with producers and editors over the years the one quality he valued most in himself and in them – call him old fashioned – was good manners.
It had never dawned on me to send my debut novel, Ghost Moth, to the US, but in 2011, as part of Dublin Writers' Festival, I attended a workshop with the American author Paul Harding. Harding is the author whose quiet, contemplative debut novel, Tinkers, nobody wanted.
He's also the author who went on to win, with that same quiet novel, the Pulitzer Prize for Fiction after it had been published by Bellevue Literary Press, in New York.
So, after 38 rejections from agents in the UK and Ireland, I metaphorically brushed the coal dust off my manuscript, popped it in a fresh brown envelope and set it sailing off across the Atlantic. A few weeks later Bellevue offered to publish it.
Bellevue was established in 2007 and is a project of New York University's school of medicine and Bellevue Hospital Center, the oldest public hospital in the US. (The hospital came to the attention of the world recently when, during Hurricane Sandy, medical staff had to carry intensive-care patients one by one down 17 flights of stairs while emergency crews pumped 10 million gallons of seawater out of its basement.)
At the time Tinkers was published, in 2009, there were only two people at Bellevue, the editorial director, Erika Goldman, and the associate editor, Leslie Hodgkins Being agentless – not that I'd planned it that way – meant that I had to navigate my own way through the publishing process, but being with a small and prestigious press you'll always get talking to the person you want to. It has also meant that I had creative input at every step, down to what cover would be used for the American edition.
Since the storm, Leslie Hodgkins rings me from his temporary office on East 12th Street. He is a man with an unadulterated passion for what he does. Throughout our dealings, he has been nothing but generous with his time, clear-sighted with his advice and the height of good manners.
Bellevue will publish Ghost Moth in the US in April. Later in the year, Penguin will bring out their edition in Canada and Weidenfeld Nicolson, an imprint of Orion, will publish the book in the UK and Ireland. I'm looking forward to the homecoming.
Thanks, Dad.
Review: Staring at Lakes by Michael Harding
Michèle Forbes © 28 February 2013
Posted in the Magazine ( • Interviews • Memoir ).
Michael Harding trusts the universe. You can sense it off him. Striding purposefully across the foyer of the Clyde Court Hotel, his trench coat cracking like a clipper's sail in the whip of wind which accompanies him through the circling glass door, he's primed to embrace the moment. He smiles when he sees me and throws his arms wide open. We haven't seen each other in nine, ten years we reckon, and it's fourteen years since we last worked together – I performed in his play Amazing Grace at the Peacock Theatre. But time telescopes and it seems we're picking up the conversation where we left off. I'm to interview him about his memoir Staring At Lakes, which was published by Hachette Ireland on February 8th.
Born in Cavan, Michael Harding is a well-known and award-winning playwright and performer and a columnist for The Irish Times. His plays have been produced by, among others, the Abbey Theatre, Red Kettle, Passion Machine and Gare St Lazare Players. He is the author of three novels Priest, The Trouble with Sarah Gullion and Bird in the Snow. Staring At Lakes is a staggeringly beautiful and honest account of his depression and illness, and his struggle with the sense of darkness which pervaded his life despite his faith – entering the priesthood when he was twenty-four, and then seventeen years practising Buddhism – his marriage, fatherhood and his career as a writer. The memoir moves seamlessly between spiritual opposites, at one time describing the paralytic effect religion can have on the mind and the corrosive nature of guilt and fear, at the next moment celebrating the profound, almost Dionysian- like spiritual episodes he has experienced in his life. At its centre there is always the tender heart, with a searing awareness of our universal solipsistic state yet still willing to go with all that life throws at us – the ambivalence, the contradictions, the painful truths, the joy. As we settle back in to the kind of deep recesses that only hotel armchairs can offer I ask him why he wrote Staring At Lakes.
"When I started to try and do straight memoir in 2006, and it was a plan I had for a long time, I'd read Samuel Pepys and I went to Mullingar and I decided I'm going to do a really detailed chronicle of Midlands small town life in Ireland and its beauty – the lovely Polish woman with the big white boots, the joy in the countryman's eyes walking in and out of the shops – and I pitched it at The Irish Times, would they be interested in a column and they said they'd take six weeks of it, and they've ended up six years going on seven, and that's what then led to the book."
Harding admits that in bringing this memoir together he was aware that by the very nature of the form it would expose the lives of his family and friends. I wondered whether he felt uneasy about that.
"I think you can write fiction and you can expose more, nobody's fooled anymore, like John McGahern writing The Dark that he made it up out of his head. People read books and have become more sophisticated than that, so you could do just as much damage to somebody writing a fiction as actually telling their true life, and I think what matters is the disposition of the storyteller or the writer. If I was talking about my mother to you now I would mention her deficits but it would be within the context that she was my mother and I loved her. The memoir has a big tradition from Proust onwards, but telling 'your story' is in a sense the core of the novel. When Dostoyevsky was telling a story or Dickens was telling a story people read it as true. They knew it was constructed in a certain fabric, but they still sensed it as true. After the Second World War art, literature, everything changed. I use that as a kind of a benchmark for everything. There's different levels at which you have to judge it. At that stage it has to be true. You can't burn people in concentration camps and go home and have an aesthetic about what a good novel is, that would be absolutely decadent. And that benchmark has spread out to include global issues. All the people who are at this moment suffering, who can't eat, who can't get water and who are dying of diarrhoea between now and the end of the interview, that's too urgent if we're dealing with trying to figure out what it is to be human. Dealing with it at a level of aesthetics separated from real life is scary. You have to have an urgency of truthfulness."
I ask him if there is a problem then balancing truth with readability in the writing of a memoir? His voice is relaxed, his gaze direct, he told me, "Guiding the story is okay. I would do that in a memoir or a novel. You do that when you look in the mirror in the morning, you structure the story for the day that usually has a protagonist, called yourself, and you usually give yourself a goal like I must get my tax done today. The template of 'the story' seems to be something that is hardwired into human perception, not for an aesthetic reason but it's actually exercising a muscle that we need to exercise to make sense of our own lives. My memoir Staring at Lakes starts with a protagonist who wants to pursue a goal called perfect happiness and the antagonist is the wife and he flees because there's an issue about a dishwasher…he's like Don Quixote…he's off on his travels, the great plan, and of course he fails, but then he achieves what he wanted to in an unexpected way."
Harding explains that he has structured Staring at Lakes exactly like a novel but the difference is he's not making up characters, and he's urgently trying to tell the truth so that if he died tomorrow you'd find him in the book. I'm very interested in this question of structure. Unlike a conventional autobiography, Staring At Lakes isn't written chronologically, rather its narrative is connected by psychological states which ebb and flow. I ask him if that afforded him more freedom in the writing of it.
"When I was writing and performing in conventional plays they were either about the clergy and their strange misogynistic world, or they were about the intimate savagery of the Troubles in Northern Ireland, so they were out of the ground, out of people's mouths. There was nothing in anything I wrote that wasn't ever slightly journalistic, because I wanted to tell other people's stories. In that sense memoir really attracts me. When I wrote the novels Priest or The Trouble with Sara Gullion they were memoir, they were real and true stories, structured to give a beginning, middle and an end the same way as I structured Staring at Lakes."
He goes on to talk about how, in the book, he describes his feelings of failure. I add how the book also champions the joys in life, that it doesn't just flag the failures. His eyes widen as he talks. Every word is given its due energy.
"I have made so many mistakes in my life. I'm a failed writer, I'm a failed priest, I'm a failed teacher, I'm a failed parent . Eventually when you put the lid on the coffin you say well he failed to live forever as well. But 'we fail' is a deeper sense of your humanity than 'we succeed'. If you can find your humanity in the crumbling failure of your life that's where it's unspeakably beautiful."
Having spent so many years immersed in Catholicism and then Buddhism I ask Harding whether or not he believes religion can help in these circumstances.
"Religion it seems to me is a kind of a glove we put on that covers the anxiety, the unbearable idea of death. We construct some sort of expression of hope in something more beautiful and we miss that the eternity is now, the moment is now, that it is bliss now in this moment. Step into this moment, that's enough. It's only when you see death on the horizon that you become yourself as a writer. When you start to tell the stories in the light of your own mortality it brings an urgency. I felt that with this book that I am mortal and I'm getting old and will I waste another page trying to concoct something that's not absolutely from my heart or will I really take this chance."
Harding believes that writing Staring At Lakes was a way for him to confess that he doesn't make sense and claims that that's an important stance for the storyteller to take.
"That's what works in literature. When you try and tie it together it becomes banal, because life is not tied together. Life is a 'koan', the Japanese concept of intrinsic contradiction in every moment. Storytelling it seems to me, rather than have all this tying things up, storytelling means to show the intrinsic 'koan', the intrinsic impossibility of making sense or meaning out of it. That's the storytelling that humans connect with. García Márquez is a great marker for me and Proust is a great marker. I think they're masters of the memoir as a beautiful form, that we live with more pleasure in remembrance than in the experience. García Márquez wrote his memoir Living to Tell the Tale. The core idea in it is that when we're living through it – the car crash – it's all anxiety and horror, but there we are twenty years later and we love to remember. In some way it gives us this double take at being conscious. When you read Proust it's unspeakable this simplicity of remembering, the smell of the blossoms and the laneway as he walked and it's like everybody's been there. I think that opens up beautifully in the memoir and that's why I like it."
Conscious of having to round up the interview I reluctantly haul myself from up out of the velvet depths of the hotel chair and perch on its edge. In Staring at Lakes Harding acknowledges the fact that we're born and we die alone, but I ask him to talk a little about the beauty of the shared moments of consciousness he describes in the book – with his daughter Sophia, for example, and with his wife Cathy (his ' beloved' as he fondly refers to her in the memoir).
"You and me are sitting in the now, talking to each other, we're sharing consciousness, for a moment, both knowing that yours'll be gone and mine'll be gone like that. It makes being here utterly remarkable and beautiful when you embrace that sadness. I like the phrase that love is not just two people staring at each other, but together looking outwards into the universe.
Michael Harding has to head on to another meeting. He stands and gives me another huge hug. We say our goodbyes and joke a little about not leaving it another ten years before we see each other. I put on my green woolly hat and head out in to the wind. The sun is slicing through the trees. The air is crisp. The day still young. Beautiful.
Review: The Lives of Things by José Saramago
Posted May 05, 2012
First published in The Irish Times May 05 2012
Published for the first time in English, this collection of stories by the late Portuguese Nobel laureate José Saramago (1922-2010) brings together his early experiments in the short-story form.
The Lives of Things, translated by Giovanni Pontiero, combines political allegory, fantasy and biting satire to explore the brutal repression of the Portuguese people under the Salazar regime and to highlight the horrors of institutionalised tyranny.
Many of the stories centre on the propulsion of paranoia and fear by using the nightmarish animation of everyday objects. In The Chair Saramago describes, with forensic exactitude, the chair that collapsed under Salazar, causing him to die from a brain haemorrhage and so precipitating the end of his regime. Embargo focuses on the profound consequences of the survival of the system at the expense of the individual, as a car takes over the life of its driver. In Things a terrified civil servant watches as his city disappears piece by piece: first the door of his apartment, then its walls and finally whole streets.
Other stories are less Kafkaesque, more mystical and lyrical. In The Centaur the rational and the instinctive worlds are woven together in one beautiful creature, the extinction of which is painfully mourned. Revenge illuminates the awakening of adolescent sexuality, at one and the same time tender and disquieting, and Reflux is a fantasy in symmetry, as a king meticulously plans how to cleanse his kingdom of death.
For the uninitiated – which I was – Saramago's stories are not, at first, a comfortable read. He offers language as a kind of architectural maze, expanding and reducing metaphors with a rigorous precision, tagging one tangent on after another and ultimately questioning the constructs of language. In his Nobel lecture he describes his writing process as "digging down, underneath, towards the roots". But it is this very digging – Saramago's insistent pursuit – that unearths in his narratives not only images of bitter-sweet beauty but also a wickedly mischievous sense of humour.
The stories in The Lives of Things are parables in human compassion and civic responsibility, celebrating the triumph of the human spirit. We are richer for them.
The Lives of Things by José Saramago is published by Verso £12.99.
Review: Some Sort of Beauty by Jamie O'Connell
Posted June 09, 2012
First published in The Irish Times June 09, 2012
The fictional style of this debut collection of short stories is unapologetically self-referential. In Without Art, Sebastian, a young gay writer, imagines an encounter with a former lover who will ask him what his collection of short stories is about. Sebastian muses; he will answer with a quote from Rainer Maria Rilke's Letters to a Young Poet (the quote also used at the beginning of the collection), explaining how writing has allowed him "to reach out to understand viewpoints different from my own". These viewpoints then form the backbone of most of the stories that follow.
In That Ample Past, a young writer worries that he will never be taken seriously in his work but ultimately finds redemption in the creative process.
In the title story, Evelyn's father, a Jehovah's Witness, discovers that he has been left the rights of his wayward daughter's book, entitled Some Sort of Beauty, after she has been killed by a drunk driver.
Other stories veer away from self-referencing but still fuse thematically. For example, the loss of a beloved grandfather in Without Art is echoed beautifully in The Believer, and the selfish artist Gearóid de Barra in Brush and Gut reappears to experience an unexpected epiphany in The Gift.
O'Connell writes with tenderness and attention, earnestly describing a world in which belief systems have crumbled, where families are in denial about what has destroyed them, where internet sex turns out to be just as vacuous as it sounds, and where commitment to love and friendship is often hazardous. But there is also a crippling resignation to O'Connell's characters, an overcontemplativeness, which weighs down the energy of these otherwise artful narratives. O'Connell's tendency is to explain a little too much; there were times I was hoping I could be left alone to read without the author's voice constantly whispering in my ear.
Some Sort of Beauty by Jamie O'Connell is published by Bradshaw Books, €12.99.
Review: Hope: A Tragedy by Shalom Auslander
Posted November 03, 2012
First published in The Irish Times November 03, 2012
Solomon Kugel, paranoid self-loather and relentless anthropomorphiser, flees the city with his wife, his beloved son and his wretched, ailing mother (who constantly talks of how she suffered in the Nazi concentration camps despite the fact that she was never in one). They decamp to a farmhouse in rural Stockton, New York, in an effort to escape history and begin life anew. But Kugel's troubles are only beginning. As he lies in bed one night he hears a tapping coming through the vents of his house.
Convinced it is some lunatic arsonist, he follows the noise to the attic, where he discovers a thought-to-be dead, well-loved historical figure hiding like some emaciated anchorite. For Kugel things swiftly go from bad to worse. Shalom Auslander is masterful in how he examines the legacy of the Holocaust and the meaning of historical consciousness through a biting gallows humour without undermining the novel's tender heart. This first novel is hilarious, irreverent and brilliant.
Hope: A Tragedy by Shalom Auslander is published by Picador £7.99.
Review: Lucky Break by Esther Freud
Posted April 14, 2012
First published in The Irish Times April 14, 2012
This novel moves effortlessly between the lives of four drama students in their pursuit of acting success. Nell, homely and self-deprecating, struggles to regain her confidence after being thrown out of drama school. Ambitious Dan wrestles to balance his career and family life with the rebellious and overlooked Jemma, and Charlie painfully discovers that her confidence and beauty aren't everything. Freud pitches her narrative with acuity and zing, following the characters through humiliating screen tests, lonely LA film sets and dismal regional tours. The self-obsessiveness could be irritating (without irony, Dan asks if it's possible "to be a great actor and still be loyal to your wife") but Freud undercuts the navel-gazing with real compassion and humour, and exposes the central conundrum: how can a business that purports to understand and illuminate the human condition so demoralise the very people who create it? "No thanks," Dan tells his agent when he is offered a theatre job, "I can't afford it."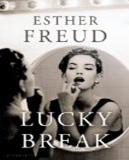 Lucky Break by Esther Freud is published by Bloomsbury, £7.99.
Review: Ten Stories About Smoking by Stuart Evers
Posted March 31, 2012
First published in The Irish Times March 31, 2012
These 10 remarkable tales by the British writer Stuart Evers read as an inventory of failed marriages, sexually disenfranchised relationships and missing people. The contemporary world he portrays is unsettling and always something to escape from. Although the characters are named they feel anonymous, dislocated in their attempts to come to grips with the crises they face; for the most part they are not middle-aged but soon-to-be. The cigarette is the baton passed from story to story, acting as killer and comforter, as confidante, as an instrument of torture and self-mutilation and as a nostalgic reminder of reckless youth. Interested in the bald mechanics of a story, Evers draws everything tight. His language is clean-cut and concise; his narrative shifts are sudden and shocking. Yet for all its astringency the collection offers us tenderness and humour: "She had cellulite on her thighs," Marty says, looking at the naked Angela in What's in Swindon. "It was sexy in a way that women just don't understand."
Ten Stories About Smoking by Stuart Evers is published by Picador, £7.99.